Common Mistakes People Make When Applying For A Mortgage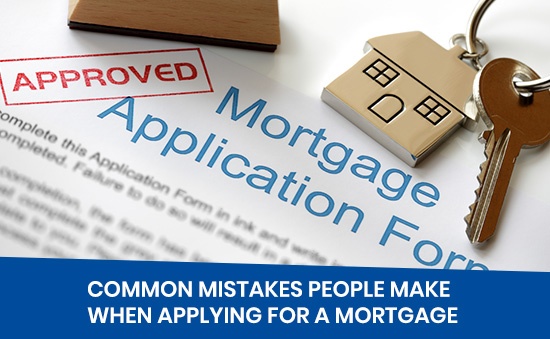 For most people, the dream of homeownership becomes a reality with the help of a mortgage. However, as the process of obtaining a mortgage is lined with intricacies, many homebuyers find it difficult to get approved for a mortgage at the first attempt.
As many mortgage seekers are often unaware and unclear about the mortgage application process, they make avoidable mistakes that end up costing them thousands of dollars. To help you steer clear of costly errors and ensure the mortgage application process runs smoothly, Dianne McIntyre at Mortgage Intelligence has compiled a list of the most common mistakes people make when applying for a mortgage and how to avoid them.
1. Not reviewing your credit report
Before you even start shopping for a mortgage product, it's essential that you check your credit report. Credit history and scores have a significant impact on a buyer's ability to procure a mortgage and in determining the mortgage rate. To ensure that you get approved for the mortgage of your choice, you need to maintain a minimum credit score of at least 640. Review your credit report in advance so that you have plenty of time to fix your credit score.
2. Failing to get a pre-approval before making an offer
Getting a mortgage pre-approval is highly advisable before putting an offer on the house. A mortgage pre-approval is issued after a mortgage agent reviews your finances. It will not only give you an estimate of how much you can borrow but will also act as a reliable indicator of your ability to secure financing. Moreover, making an offer with a pre-approval will make you stand out from the rest of the competing bids.
3. Saving too little for a down payment
A down payment indicates a borrower's ability to repay their mortgage. Most lenders require a minimum of 20% down payment to get their best rates and avoid paying mortgage insurance. Saving little for a down payment will keep you from qualifying for some of the best rates. Also, when you put down a bigger initial payment, the amount you're borrowing for your mortgage will be smaller. This will result in lower monthly payments and lesser interest.
4. Raking up too much debt
Adding too much debt when going through the mortgage process can mess up your debt-to-income ratios. It's important to keep from making big purchases after being pre-approved or approved for a mortgage. The lender will check your credit right before the deal closes and possibly refuse to fund if you have taken on more or too much debt.
5. Not shopping around
While shopping around for a mortgage product can be grueling, it's highly recommended that you sieve through several options to get the best mortgage deal. If you want a mortgage product that has the best rate and is flexible, you need to work with a mortgage broker. While a bank offers only one product, a broker can help you shop around by giving you access to many lenders.
6. Failing to understand terms of the mortgage
While a mortgage product may seem fantastic, sometimes, the devil may lie in the details. To protect your interests, always make sure you understand the terms of the mortgage. A variable-rate may sound like a great idea initially, but as the rate fluctuates, so will your monthly expenses. It's best to ask your mortgage broker to explain the terms of the mortgage to you before signing the deal.
To avoid these and other mortgage mistakes, reach out to Dianne McIntyre at Mortgage Intelligence. As a licensed mortgage broker in Toronto, ON, I can assist you in shopping around for a mortgage deal that not only has the best rate but also offers great long-term value. With my experience and expertise, I can help you save thousands of dollars by guiding you at every stage - from pre-approval to approval to refinancing. I take pride in my ability to ease my clients through the mortgage process and give them the results they want. My services are available across Toronto, Hamilton, Markham, Niagara Falls, Oshawa, Whitby, Muskoka, Brampton, Guelph, Kitchener, London, Windsor, and St. Catharines, Ontario.
To learn more about the services I offer, please click here. If you have any questions about mortgages, I'd love to hear from you. Please contact me here.
---
---