Common Mistakes People Make When Looking For Mortgage Financing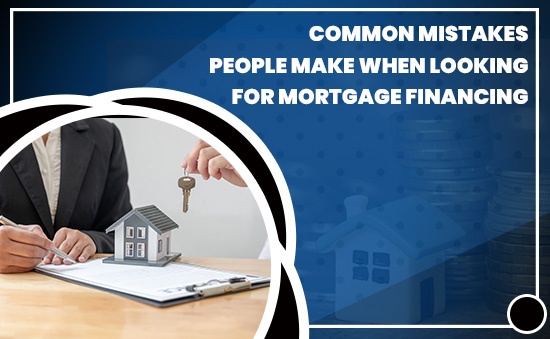 If you are a first-time homebuyer, it's natural to have butterflies about the home buying process. The feeling of excitement, coupled with many apprehensions, can be tough to deal with. Many people often get too stressed by the entire process and tend to make a few mistakes like not budgeting their expenses, ignoring their credit score, or making huge purchases at the wrong time.
Making these errors could affect your chances of acquiring the appropriate finances or good deals on your mortgage. While it is natural to make mistakes, avoiding them can save you from wrecking your chances of obtaining the financing you need. To help you stay away from some basic errors that could prove costly, Mortgage Intelligence has put together a list of the most common mistakes people make when looking for mortgage financing.
1. Looking to banks for the best rate
While approaching a bank may feel convenient, it doesn't ensure a smooth loan process or the best mortgage rates. A mortgage broker works on a commission basis and so they have your best interests at heart. Whereas a bank can act in its own interests and thus give you a rate that benefits them over you. Brokers have a panel of lenders and, therefore, have many mortgage products to choose from, giving you a wider range of options.
2. Not checking your credit score before looking for financing
The first thing you've got to do before seeking financial aid is to check your credit score and take steps to keep it healthy. A low credit score could affect your chances of obtaining a low mortgage rate or worse, your financing application could be rejected. But don't worry, there are several ways to improve your credit score. Just make sure you take the right steps to improve your credit to maximize your chances of approval.
3. Making large purchases between the mortgage commitment and closing
While it's natural to be excited after getting approval on your mortgage, try to avoid going on a buying spree to celebrate. Your mortgage approval is based on certain criteria, such as cash reserves, assets, etc. Making changes to them in any way could ruin the possibility of your closing and financing your new home.
4. Relying on big banks for financing
Banks will offer you a reasonable interest rate, but only if they consider you a low-risk customer with a good credit history. It also helps if you're an existing customer of theirs. But even then, they can only offer you their own mortgage products, and many times it might not be the best product for you. If they say not to your application, or you don't find a relevant option with them, you can still consult a mortgage broker. A broker has an array of lenders and products for you to choose from and will work hard to find you a mortgage product that suits your needs best.
5. Not making sure you can afford the monthly mortgage payments
One thing to consider before settling with any mortgage product is to stay within your means. Take your time to budget and figure out if you can make the required monthly payments against a mortgage. Ask your broker to give you all the information necessary before signing any documents or making things official. That way, you can confirm what your monthly payment will be based on the interest and determine if you can afford that amount every month without stress.
6. Not paying down as much debt as you can before applying for a mortgage
Eliminating most of your debt is an excellent strategy to improve your credit score. By lowering your credit utilization ratio, you can boost your credit and improve your chances of getting the mortgage product you truly need. There are several types of debts that you should clear off sooner than later. To achieve this with ease, prepare a debt management plan and try to pay off as much debt as possible before applying for a mortgage.
To avoid other mistakes like these, reach out to Mortgage Intelligence. I work independently, which means I work for you, not the lender. My clients always come first as their priorities and needs matter to me. Most of my clients have come to me through referrals as I help my clients to quickly out how much they can afford and what kind of mortgage pre-approval they can avail. I also guide them throughout the mortgage process until the keys to their new home are in your hand.
My mortgage services include first mortgages, second mortgages, debt consolidation mortgage, mortgage refinance. Private lending, etc. I serve clients across Toronto, Hamilton, Markham, Niagara Falls, Oshawa, Whitby, Muskoka, Brampton, Guelph, Kitchener, London, Windsor, and St. Catharines, Ontario.
For a complete list of my services, please click here. If you have any questions about mortgages, I'd love to hear from you. Please contact me here.
---
---